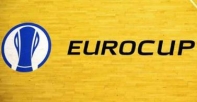 Bruno Sudnov: We are happy with the result.
"Asvel is a very good team and it was a tough game for us. I think we can play better as we made mistakes. Our defense was quite good though.", said coach Jovica Arsic,
"It was a tough game. Asvel Basket is a good team and we are happy with this result. We are waiting for the next games", Bruno Sundov told to the press.