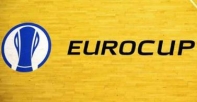 Lamont Mack: We played as a team.
Jovica Arsic: "I felt that both teams were nervous as it was the opening game of the Eurocup. We opened the game like we wanted to but then we lost our discipline in offense, resulting in turnovers and our deficit at half time. The second half we played smarter, making less mistakes in offense and playing a better defense. At the end I think psychologically we had the advantage of playing an away game, with less pressure than the home team. I think our team can play better. We did not have enough quality games yet. This tournament will help us to step up."
Lamont Mack: "We played together tonight, 100 percent as a team, which at the end made us win the game."